Another vegan meal brought to you by the Refresh cookbook. This was seriously delish! My favorite thing about it is, unlike other meatless meals, this one doesn't feel like it's missing something or lacking in flavor. This isn't the exact recipe, but includes changes I made (or would make in the future).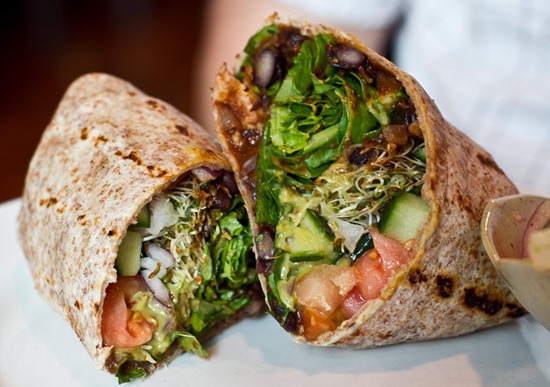 picture from Oh She Glows
Fresh's Black Bean Burrito Wrap
Black Bean Filling:
6 tbsp olive oil
2 onions, chopped
4 cloves garlic, minced
1 tsp cumin
3/4 tsp cayenne pepper
2 tsp apple cider vinegar
1 tsp sea salt
4 c. canned or cooked black beans
Heat oil over med heat. Add onions and cook for 5 min or until soft. Add remaining ingredients except for black beans. Simmer for five minutes. Lightly mash black beans so some are still intact. Add beans to mixture.
Wrap:
4 whole wheat tortillas
2 tomatoes, diced
1 bunch cilantro, chopped
1/2 cucumber, chopped
1/2 red onion, diced
2 c. shredded green lettuce
2 avocados, sliced
Heat tortillas on a grill or in the oven (I did mine in the microwave). Spread a thick layer of warm black bean filling on the center of a tortilla. Spoon a portion of all of the above garnishes on top. Roll and eat!