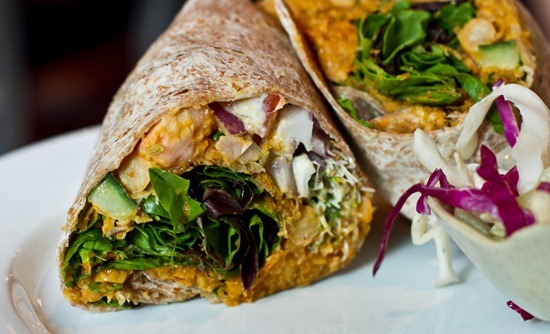 picture by Oh She Glows
This recipe is a take on the Kathmandu Wrap featured at Fresh restaurant in Toronto. I checked out a cookbook (I love the interlibrary loan system!) the creator had written for another recipe and decided to try this one, BUT I didn't have some of the ingredients. Instead of buying stuff I would never use again, I used her recipe as a base, then made up my own! Oh, and then I ate it too fast to get a picture of it. YUM!
Curried Garbanzo Bean Wrap
adapted from the Kahtmandu Wrap in Refresh by Ruth Tal
1 tbsp olive oil
3 cloves garlic, chopped
1/2 c. onion, chopped
1/2 large carrot, grated
1/2 c. green pepper, chopped
2 pepperocinins, chopped (or something hotter if you like it super spicy)
1/2 tbsp cumin
1/2 tbsp oregano
1/2 tbsp sea salt
1 tbsp curry
1 can garbanzo beans
1/4 c. tomato sauce
4 whole wheat tortillas
1 pack alfalfa sprouts
2 tomatoes, sliced
1/2 cucumber, sliced
Heat the olive oil over medium heat. Add garlic, onions, carrot, peppers, and spices. Cook until veggies are soft. In the meantime, use a food processor to smash garbanzo beans into a chunky paste. Add bean paste and tomato sauce to skillet, and cook until heated through. Serve on tortilla with sprouts, tomatoes, and cucumbers.
I had my wrap without any of the garnishes (because I didn't have any on hand, must be time to go shopping) and it was still delish!